We would like to extend our warmest regards and appreciation to all of our current and previous sponsors. The achievements of UNSW OptomSoc over the years were only made possible through these generous contributions. Your continued contribution is extremely valuable.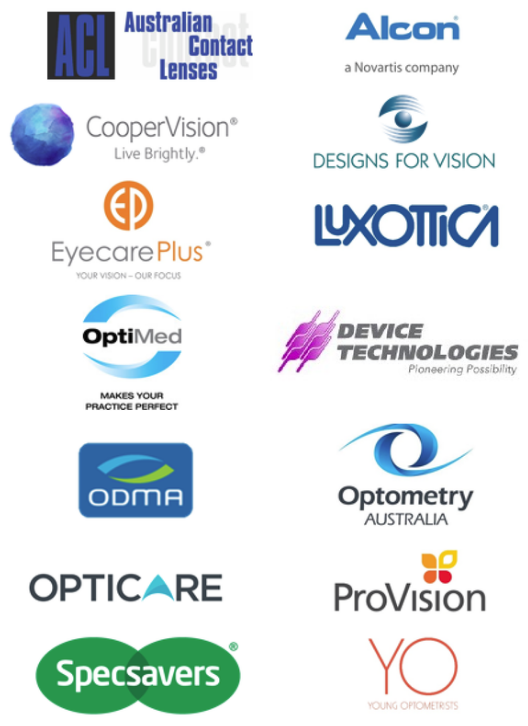 Why become a sponsor?
The sponsorship program for UNSW OptomSoc allows you to contribute to the future generation of optometrists and vision scientists, whilst concurrently promoting your services and products to upcoming graduates, current clinicians and academic staff.
Sponsorship can take the form of financial support, donation of optical equipment, donation of prizes for events, gift vouchers and also through the executive team organizing and coordination events of your choice.
Being a sponsor is more than simply just displaying your company's logos, messages and products. Potential sponsors, like yourself, will not only gain exposure to the members of UNSW OptomSoc but also to patients, employees, friends and family.
By supporting UNSW OptomSoc, you will be given the choice of exclusive benefits including naming rights recognition via our various media outlets (online, in print and on OptomSoc merchandise). We have detailed the potential sponsorship packages in this booklet. However, we are always open to discuss and negotiate any sponsorship ideas to suit your company's image and goals!
In 2017, our team is aiming to innovate and find new, exciting ways to further increase awareness of your company and allow UNSW Optometry students to gain a better understanding of your products and services which they may take advantage of now, or in the future. Additionally, representatives of your company will be invited to make an appearance at any events that you sponsor.
We look forward to having a successful year working with you in 2017 and achieving more goals in the years to come!
Notable Achievements of 2016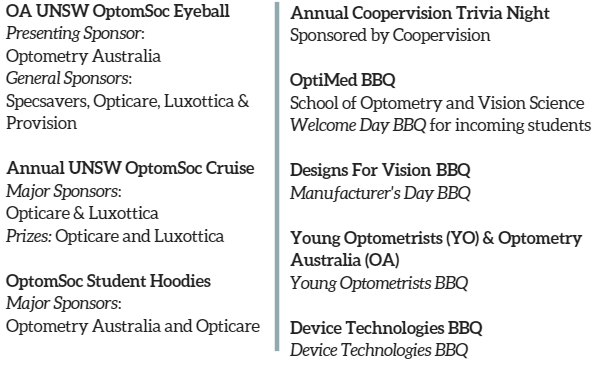 How to Get in Touch
Please email Kevin at unswoptomsoc@gmail.com for a copy of our 2018 Sponsorship booklet. We are always open to questions and suggestions!